Before I get into this month's layouts using my CKC kit I want to show the last couple of layouts from last month's kit. Here's my Wonderboy With the Watergun! LoL!! This layout is of Cameron my grandson and his antics with the watergun and playing in the pool.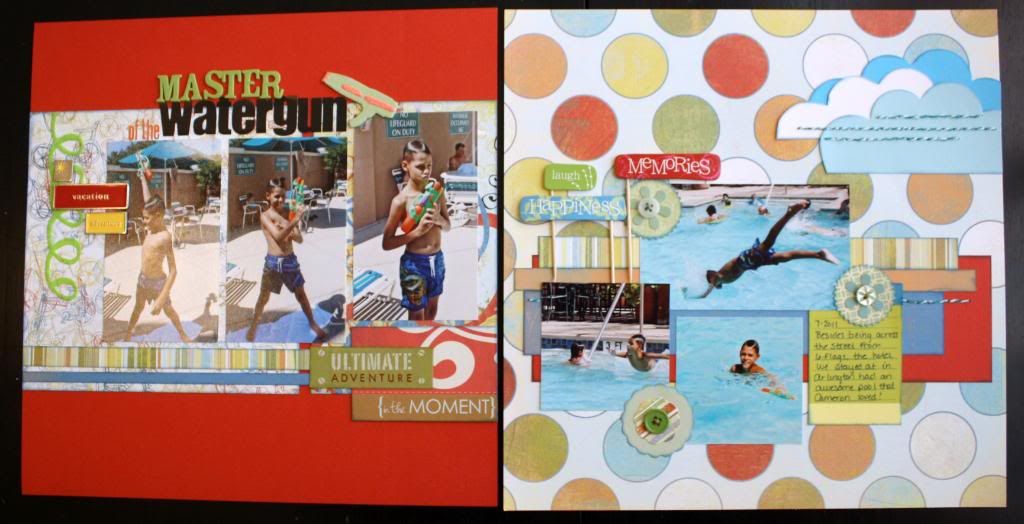 I used some clouds that I cut out with my Quickutz and stitched over the top with twine.
Here's one of the embellishments that I made last summer and a little more stitching.
I used another embellishment that I made and I made flags with word chipboard's and tooth pics.
Another embellishment made out of scraps from last summer.
I bought this cloth tag years ago, it's actually the 3rd or 4th one like it that I have used, I loved them and bought that many packages. The red tag is from a set of tags I bought, I'm not sure of the manufacturer since the tags are double sided.
The metal tags are from a kit by making memories and the green swirls are a piece of a border that I bought last summer at the GASC.
I used alphas from my stash, thickers and scenic route. The water cut was a bull horn and I cut it to the shape of a gun and painted it with green and orange to try and mimic the watergun in the pictures.
Thanks for visiting my blog today.