More pool pictures from last summer and this one is a double layout using an Allison Davis Sketch, it's sketch #1 from the
Sketch Support Blog
, "Splash Fun."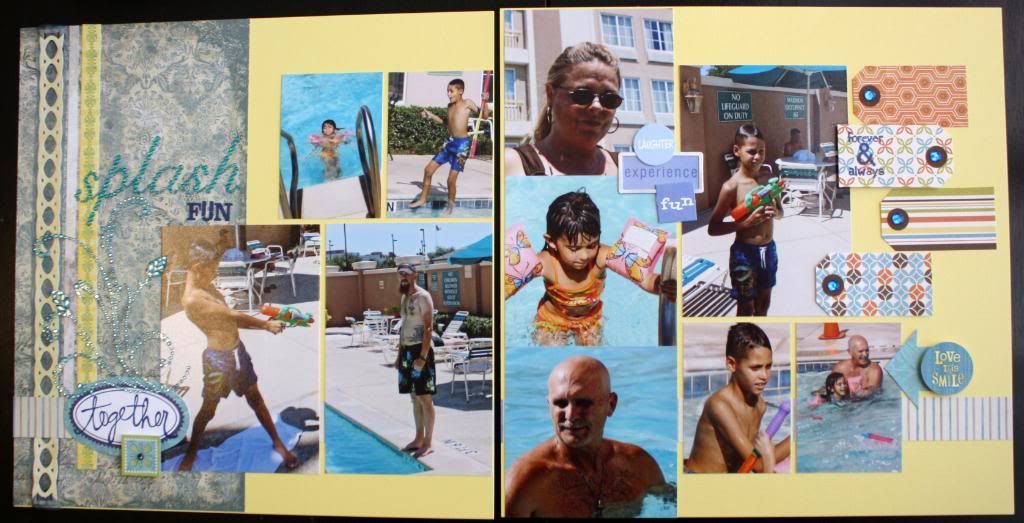 I just love how this one came together AND the fact that it has 10 photos! Who knew all those random bits and pieces would work together, it just took the spectacular colors in the pictures to pull it all together!
I've had that blue swirl bling thing in my stash for a while, prolly 2 or 3 years. and how about that basic grey border strip, I just added a piece of sheer ribbon behind it and it really pops. I added another CTMH border strip here too.
I stamped the word together on this tag and added a little bit of bling to the little square and popped it up.
The old metal tag is from Miss Elizabeth from years ago and the laughter and fun tags came in packages to be used under those little metal squares, ovals, rectangles and circles that punch through the paper. I had way more word tags than I did the metal pieces but I still have some of those in various colors in my stash...maybe next month I will challenge myself to use some of them.
The little tags were in the package from American crafts, such fun colors, I stamped the forever & always on the second one and popped it up.
I love this sentiment! I added a little pop and an arrow behind it.
Here's another little bling piece that I've had in my stash for a couple of years, I added it to this kit when I pulled out the pool pictures. I stamped the word fun for a title "Splash Fun."
Thanks for visiting my blog today!!!