Here's another double page layout with pictures from last summer, "Play Day"...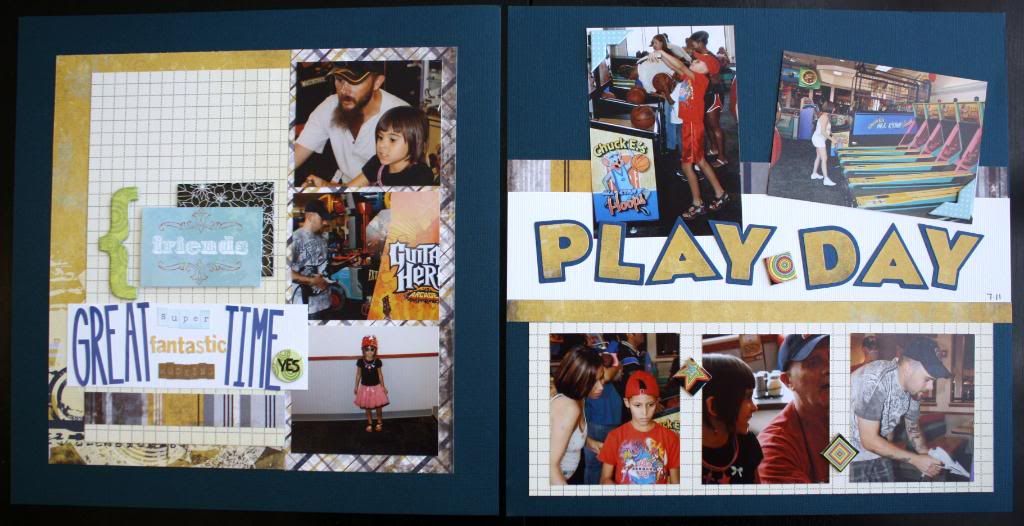 Before we headed off to 6 flags we spent the day at home and part of that day was spent at Chuck E. Cheese, so of course the adults and kids alike had a play day!
I just wanted a close up of the paper, it has a beautiful blue green tint in real life, otherwise you might think it was just navy blue.
I used 4 different fonts for this title. The chipboard yes, the bracket and the black square are all part of a set from scenic route that I added after my kt was put together, it added some more bright color to the layout other than just the photos.
I used my Quickutz Blue Sky dies to cut the title out with some scrap paper and one of the yellow sheets of paper.
The layout itself was inspired by a Disney layout I did at the GASC a couple of years ago, I tweaked it a little and came up with this, the original is by Andrea Hancock-Deer of the Whole Kit & Kaboodle.
Thanks for visiting my blog today.