So here is the first layout from my May CKC kit...kit 1 that is! LoL!! I went a little crazy and counterfieted all 5 inspiration kits for the month. I even went so far as to pull paper that matched the back sides of the inspiration paper, though it wasn't my focus to use that up, it was a tremendous help just having a few extra options. I am actually still working out of these kits, they are still all stored together and sitting on the table in my scraproom, I hope to make several more layouts from them. My main focus for these kits was to scrapbook my 2011 Family Reunion photos and by golly...I got 'er done! I took all of my kits and photos with me to the GASC during the first weekend in June, that's actually when I got these done. I have now started using other photos to use up the remainder of my kit since I have been home.
So here's a link to my
May Kits
, remember there are 5 of them scattered over 2 posts, and there are tons and tons of pictures.
Layout 1 / Kit 1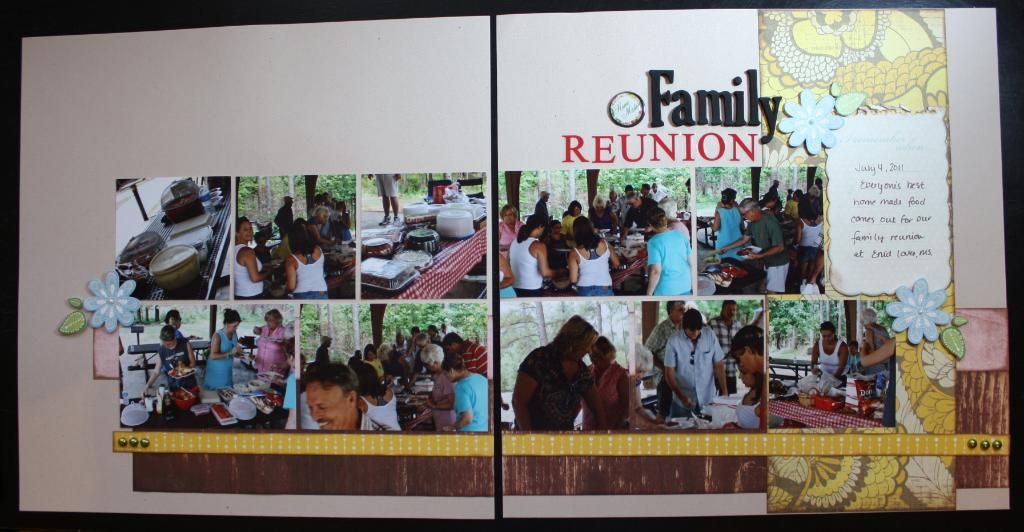 I really didn't have plans to use any blue on this layout until I started laying out the photos and realizd my Auntie and cousin both had on that lovely shade of tiffany blue...so I felt to kind of balance that out I would put a few blue flowers around the entire grouping. The blue flowers and the word family came out of some random stickers that I also brought with me to use for just in case, sure glad I did! Oh did I mention that this is an Allison Davis sketch? It is, I love her sketches!!
The work family was actually in the sticker pack with the flowers and the Reunion letters were from kit 3. I just love how all 5 kits flowed together and believ me, I intermixed ALOT!!
So there you have layout 1 and it's details.
Thanks for visiting my blog today!!!!