Here's a link to the
original kit
I made for the July CKC. Today I am showing 2 double page layouts I did for the challenge.
Layout #4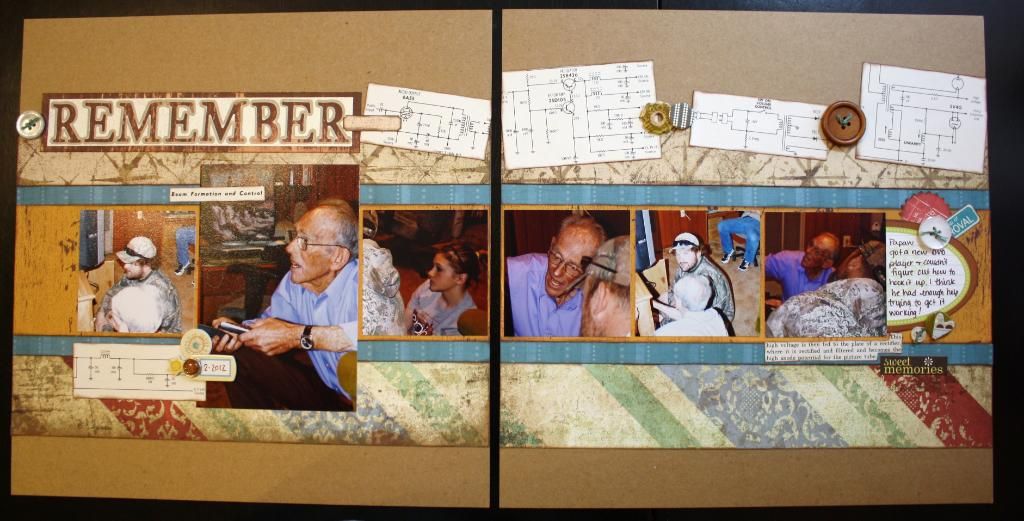 I used the rest of the graphics from the add on book page and another little phrase off of it that I have a close up lower down. This layout started as an AD sketch from book #8, it's a 6 photo sketch.
Remember is the negative that I put in my kit. I also used a chapter heading cut out for an embellishment.
Here's a close up of the graphics; did I mention that it was a television manual that this page was from?
I used chipboard pieces and a button to bridge the gap.
Here's the close up of the phrase cut out...too funny!
Another embellishment cluster at the bottom of the page.
Layout #5
For this one I used another AD sketch as my starting point from book #8, it's a 6 photo sketch that I modified to use 7 photos on.
I used tattered angels glimmer mist on the upper left and lower right corners and scattered some bling around these areas as well.
I added a little extra bling to the border strip. I had to get a little creative with the letters since I only had one "e" left, I turned a "3" over to make it an "E".
I journaled on the washi tape.
I popped up the journal spot up to put the title on and I also popped up the flower part and left the stem flat.
Embellishment cluster on the lower right corner.
Well that's it for another day, I will post more on Wednesday. In the meantime, I have put together another kit following along the with the same inspiration kit and I have been working on it. Hopefully by the end of the week I will get pictures of it up.
Thanks for visiting my blog today!!