Today's layout is from the
May CKC kit 2
that I put together. It's an AD sketch, I just love her sketches!
May CKC kit 2 / layout 1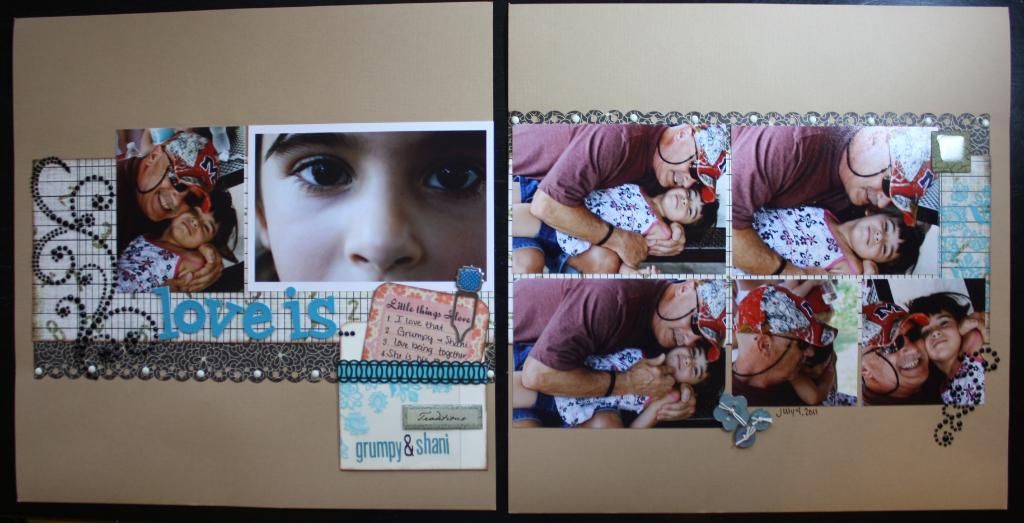 Have you ever saved a part of a package of something because you just knew you could incorporate it into a layout? I have and this layout is one that I actually used a some of that packaging on.
Love this bling! I punched a border to go along the both pages and then I used little beige brads to fill in some of the holes.
Here's a better shot of the brads and the title.
3 blue buttons to kinda balance the blue title.
Here's a close up of the packaging, do you recognize it? The other part of the packaging is on the library card holder that is holding my journaling. I'll give you a minute to think about it....
I'm not really sure why I covered up so much of the punched border on this side, other than trying to line up these photos with the one's on the opposite page. I love that black floral paper!
OK....
So you know those cute little EK punches? That's what my packaging is from! Did you guess it already? That plastic is sooo hard I haven't saved any since then!
Thanks for visiting my blog today!!!