Today is July 11, so what is so spectacular about that? Well, it marks 30 years and 1 day that I have been married to the love of my life! WoW-ZeR!!!! Right! LoL!! So what kind of fun did we have yesterday? I spent the first part of my day in Canyon taking a final exam for the pathophysiology class I've been taking this summer. I got home totally depressed because I knew I failed it, miserably!! When I got home, I needed some retail therapy so my sweet grand daughter Shani went with me to Hobby Lobby and Michael's where I spent a grand total of $30 between the 2! When we got home my loving husband of 30 years had made the most incredible dinner with the help of Domino's...my favorite, thin crust cheese pizza! Does it get any better than that? Well at my house it does, after eating our fill of pizza we headed to the backyard to play. Not figuratively, but literally! We ran and tumbled in the grass and had the best time!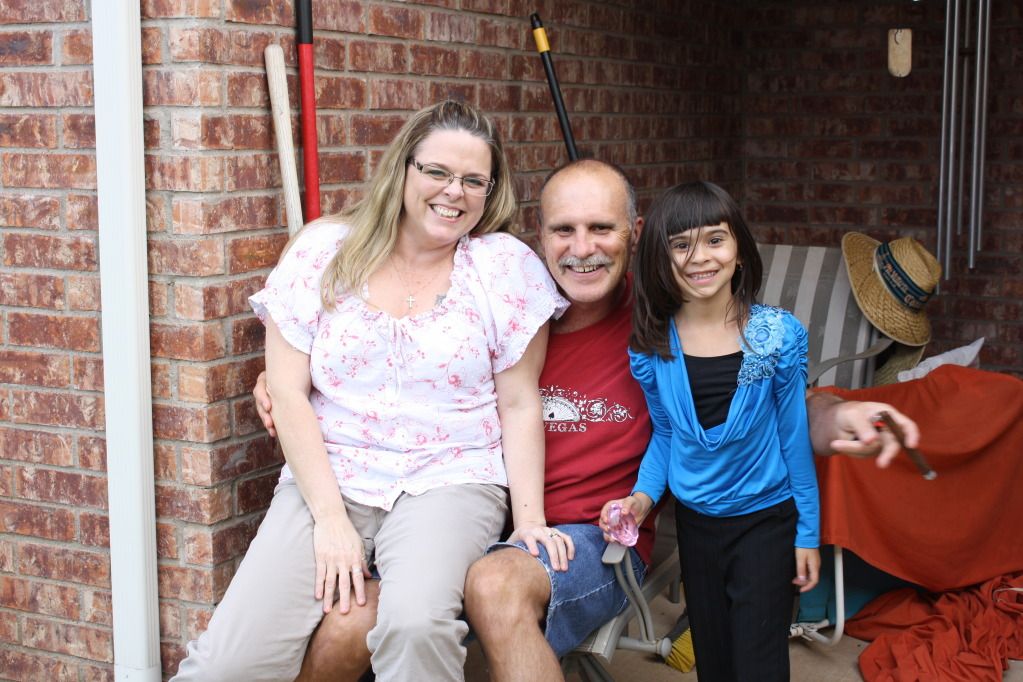 So here we are in the backyard, that's me, Mr Gulley and sweet Shani.
Can you think of a better way to get over the blues than with these 2? I can't!!


So what's the first thing I do when I get up this morning, I check for my final grade. I'm in a graduate program that won't let you move forward if you get less than a "B" and this class has been so tough that I have been on the border for the entire time. Don't get me wrong, I'm a smart cookie...but I don't do memorization well, I really have to know the information to digress it back to you in essay form. Here's the problem, the instructor used diagrams for soo much of the information because there was soo much of it (4 1/2 hours each day for 2 days a week for the past 6 weeks) that it made it easier for him....but not me! I know diagrams should be easy but I've never done well with them so I had a really difficult time remembering all those little boxes and arrows! So back to the grade...I made a "B"... so I guess I remembered enough of those little boxes and arrows after all!
So to celebrate the "B" we spent the morning in the floor playing Lego's then off to my BFF Debbie's house to play in her pool during the afternoon!
No laughing please!! We didn't get any pictures of us in the pool, only out of it and the last photo was of sweet Shani and I scarfing down some nice cold watermelon! Yum! So no that we are home, it's scrap booking time for sweet Shani and I!
Tomorrow I will have my July CKC posted so stay tuned!
Thanks for visiting my blog today!!!