If you go back in my life about 27 years you will find me meeting Janet and Behr. They were in town visiting their adopted brother Jimmy Haupt, who happened to be by best friend Stephanie Perkins husband. Stephanie was pregnant with their son Jake at the time and Behr was giving her all kinds of crap about being fat! Man I thought... he's a jerk! Everyone laughed including Stephanie and she gave him back twice the crap as he had just handed her. OK...so I might have over reacted just a bit! Fast forward a couple of years, Jake was a little over a year old and Janet and Behr had stopped in for another visit. I have never seen a nearly 300 pound 6'2" man cuddle up a baby and sweet talk him like he did Jake that day. I thought...he can't be all that bad! A couple more years go by and Janet and Behr decide to put down roots in Clovis. Janet, Stephanie and I became inseparable. We rotated houses for coffee, gossip, man complaining, child rearing tips and just hanging out doing each others house work.
When we 3 talked, Janet never mentioned wanting children. I think she was quite content with her godson Jake, all her nieces and nephews and even my boys. Behr always seemed too rough and tough to want kids, that is until you saw him up close and personal with any child and you realized just what a big "Behr" he really was. My boys were in love with Behr, they wanted to go to his house, crawl all over his semi truck and just hang out and be like Behr. As the years passed by and Joshua, Jason and Jake got older you would occasionally catch Janet or Behr looking at them with a wishful look on their faces, though they never said anything, you could tell what their hearts were wanting. They still lived that hard and fast lifestyle, working and partying all the time.
1994 changed everything...Janet found out she was pregnant! Those 2 changed overnight and set about getting their little nest ready for their baby Behr to arrive. Travis James Behr arrived on November 21, 1994. Behr and Janet had been at the hospital laboring all day and night, Behr called me and told me to get my ass to the hospital and sit with Janet while he ran to the house to shower. Off I went to the hospital, he left and came back within an hour and Travis put in his appearance shortly thereafter. I cried, Janet cried and Behr cried!
Shortly after Travis was born Behr got an offer from the carnival that they used to travel with and they took it and off they went on a new adventure. They came back to Clovis several years later, by that time I was in school full time and my boys were teenagers. We kept in touch, hardly seeing each other for years. But during all that time I knew that if I ever needed anything all I had to do was call them and they would do whatever I needed. Same went for them.
It wasn't until a couple of years ago when Stephanie's dad died and we all showed up at the funeral that I got the opportunity to meet a nearly grown Travis James. He was 16 years old and well over 6 feet tall and over 200 pounds, he had grown into a very large Behr! His smile was absolutely infectious! Janet, Behr and I made an agreement to not loose touch with each other again and we haven't.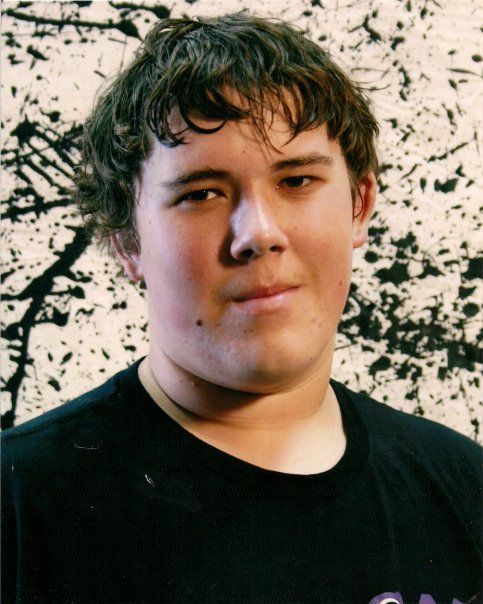 Life hasn't been easy for them since last August when Behr was in a devastating semi truck wreck that nearly took his life. The wreck broke Behr's neck and since then he and Janet both lost their jobs. Behr has had his neck repaired and finally after all this time has taken the neck brace off. He is still using a cane to get around and he walks very slowly but his body is healing. Janet is back in school, taking advantage of grant money and unemployment income. Travis was finishing up his last year in high school and had just started the welding program at Clovis Community College.
January 15, 2013, it should have been a happy day for all of us, life was moving forward. That is until it came to a grinding gut wrenching halt. Janet walked into her sweet son's room and found him not breathing, the chaos that ensued left all of us devastated...Travis James Behr was dead. How could my dear sweet friends face this? How do I comfort them? Why did this happen? How do we move forward? How do we leave this moment in time? How do we stop the pain?

When I meet God in heaven I know that He will give me all the answers to life's toughest questions, but for now, it's not my place to know. I don't have many friends in this life and the ones I do have I cherish because they are the family I have chosen for myself. When they hurt and suffer so do I and the only thing I know how to do at a time like this is to lift up my voice to God!