I made this layout for the
Use It Tuesday Challenge Blog
, this weeks challenge #52 is to use diecuts, punches and cutouts and I think I used them all for this layout. The Use It Tuesday blog has been around for awhile but I just found it recently and I love it...it challenges you to dig into your stash, old or new.
I have recently found the
Page Drafts Blog
that offers up tons of sketches every month. My layout looks randomly like the sketch (release #19) I started with but it morphed into something else when I started working with the bits and pieces that I have to work with!
I used my
March Corner Stop & Shop CKC kit
to make this layout. I have to say I used tons of bits and pieces for this one and I love the way it came out. I love when such and odd assortment of things can come together to form something so lovely!
I took like 5 different photos this morning and just couldn't get the color just right, these were the best of the photos and they aren't the very best. This was Jason's wedding day and the 2 most important men in his life were there for him, his daddy and papaw.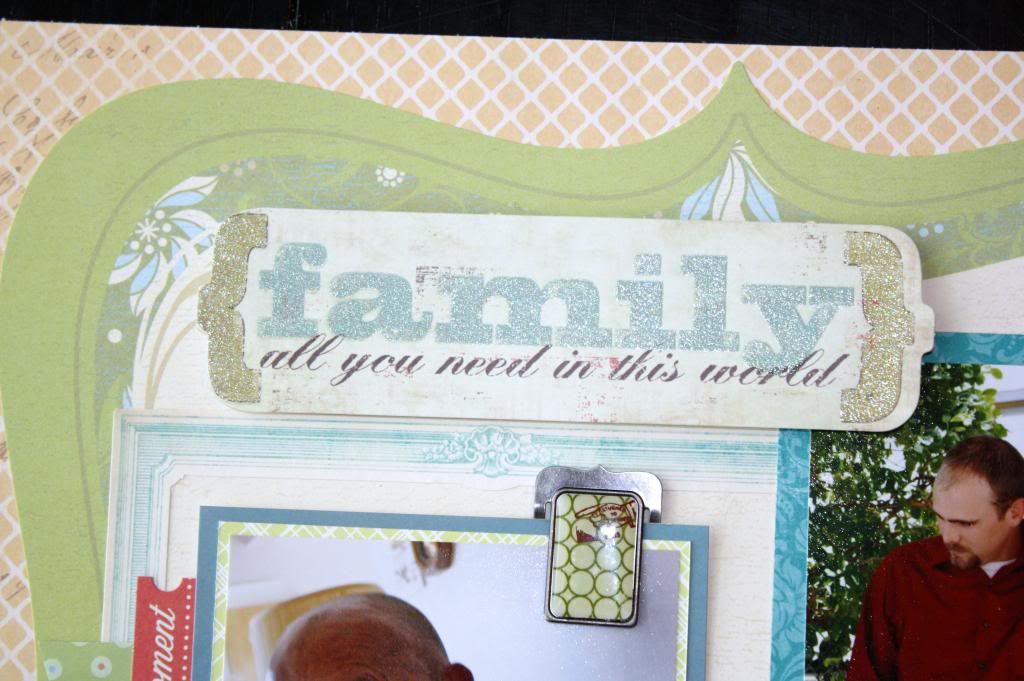 I bought a pack of old MME titles and sayings last summer and this was in it, I bought it on half price clearance because it was mostly old stuff (dated 2008), same with that photo frame tucked underneath the photos. I really don't mind using old stuff as long as I can work it into the layout in a pleasing manner.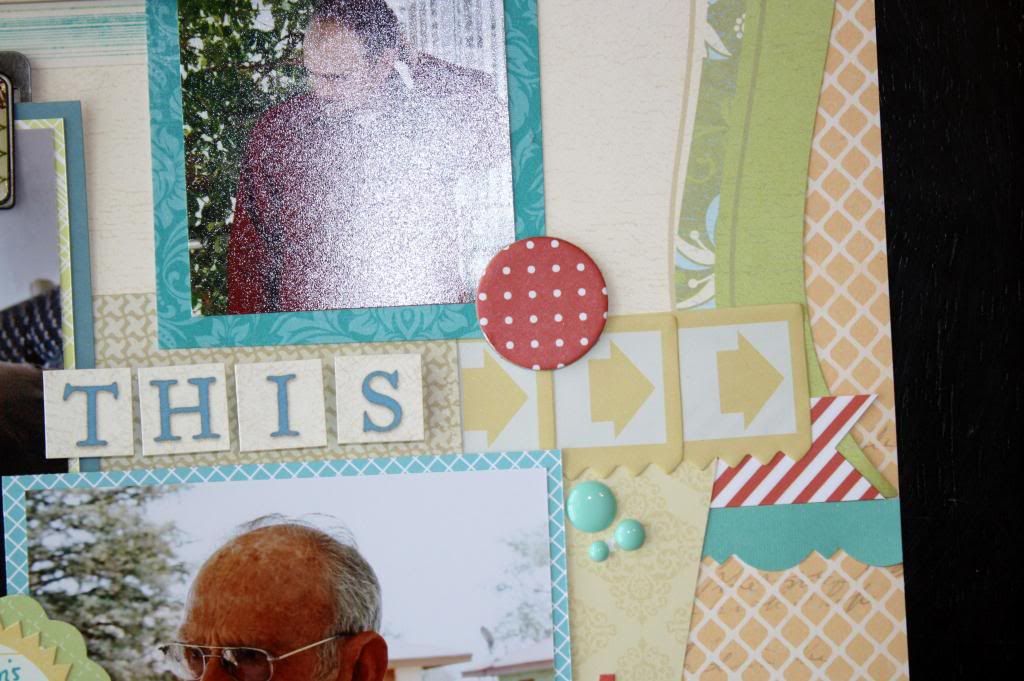 I love those little sticky notes with the arrows, I just layered them up and stuck them down.
A couple of random stickers tucked in here and there.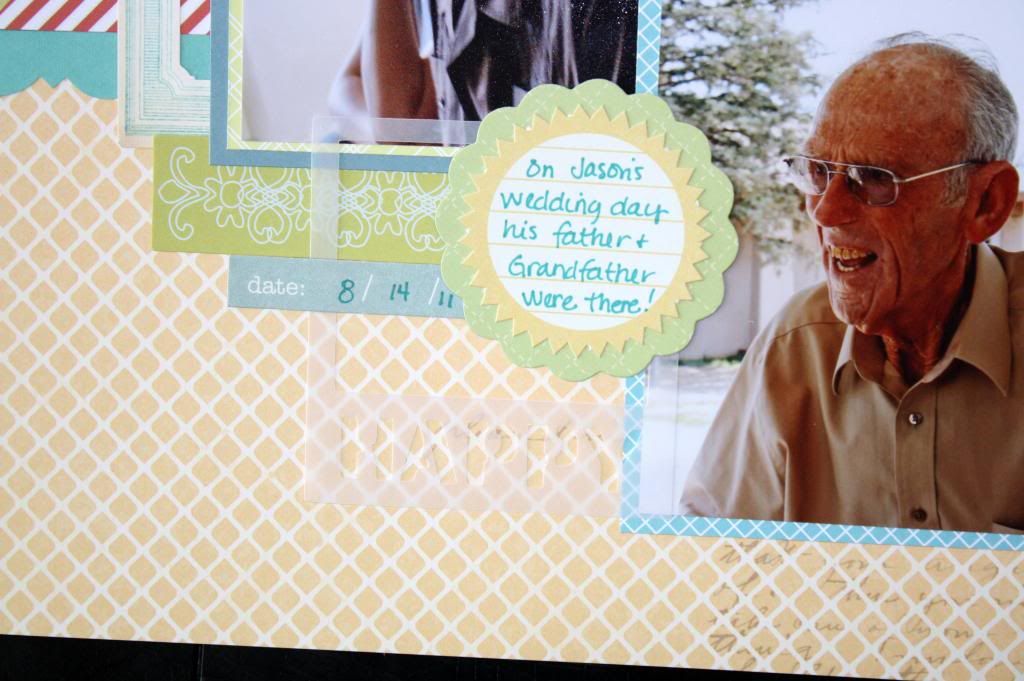 Love that I was able to tuck in the polaroid from that says happy on the bottom of it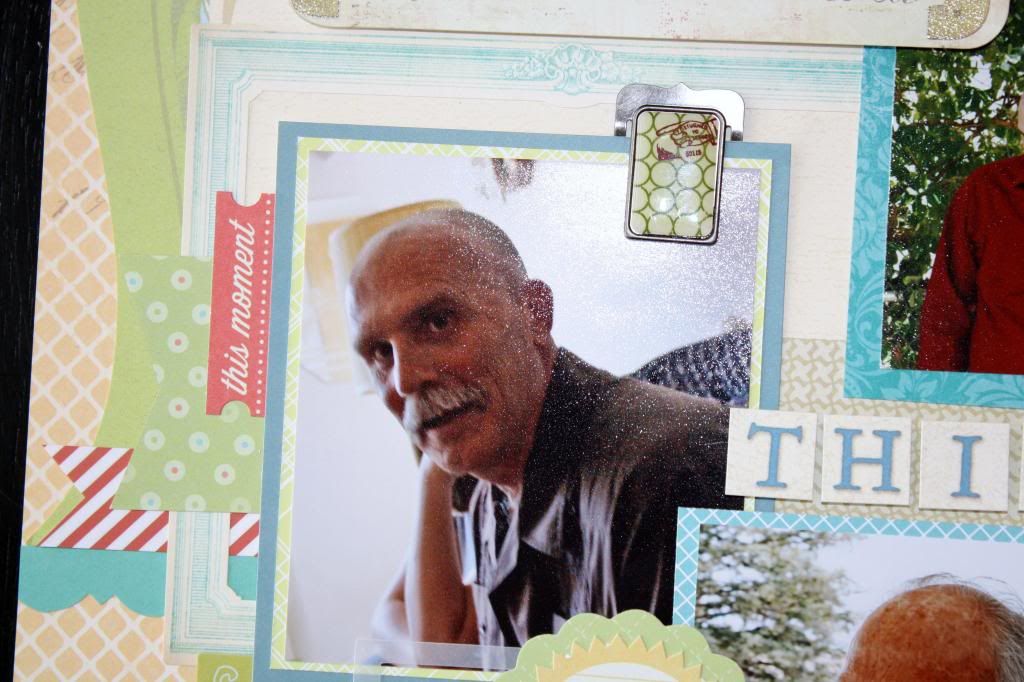 More random bits tucked here and there.
Supplies Used:
CTMH You & Me paper, 1/2 scalloped paper, green dot scrap; SEI dill blossom scrap & turquoise scrap; EP style essentials dk teal damask, everyday eclectic hexagons side B, everyday eclectic kraft doily side B, for the record 2 chevrons side B scrap; Teresa Collins He Said She Said cutouts & stickers; MME Tres Jolie Bonjour diecut frame, laundry line comfort title, the sweetest thing enamel dots; TC sticky notes yellow arrows; SEI oasis sticker scrap; Making Memories passport metal clip; Martha Stewart border punch; CTMH blue tile alpha; RUM yellow scrap, green die cut scrap, vellum (silhouette polaroid frame cut out), salmon polka dot chipboard piece
Thanks for visiting my blog today!!