I decided to do project life this year and I really wanted to have a "go to" spot to keep everything together. I had this
little area
(you can see more pictures about half way down) that at one time held lots of random stuff and unfinished projects (mostly mini albums). Though I love minis I very seldom complete them!!! So...I decided to empty this area out and re organize my PL supplies into it.
I still plan to move a couple of my jetmax cubes over from the area under my TV and change out at least the divided section and maybe get rid of altogether the bottom section with that funny pull out magazine thing. Or maybe I'll just get rid of re-purpose the magazine thing!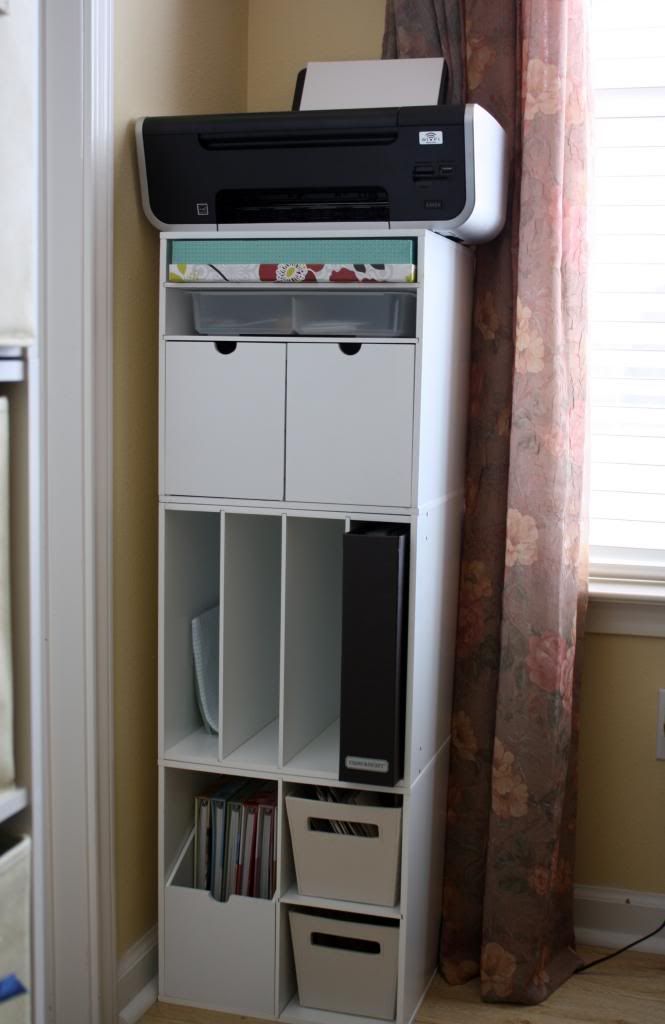 I'm thinking the wireless printer prolly needs to find a new home on the office desk. Yes I did get rid of the magazines and put several sketch books down there, I also found those cute canvas baskets at target, they fit perfectly and are long enough to fill the entire length. I have some random graph paper in one section of the divided cube along with my project life album. And for those that follow myblog and have seen my CKC kits you might recognize that box on the top shelf, it's the box I usually put my kits in while I'm working on them. I finally found another box for that and was able to use my old one in that little slot, it fit perfectly.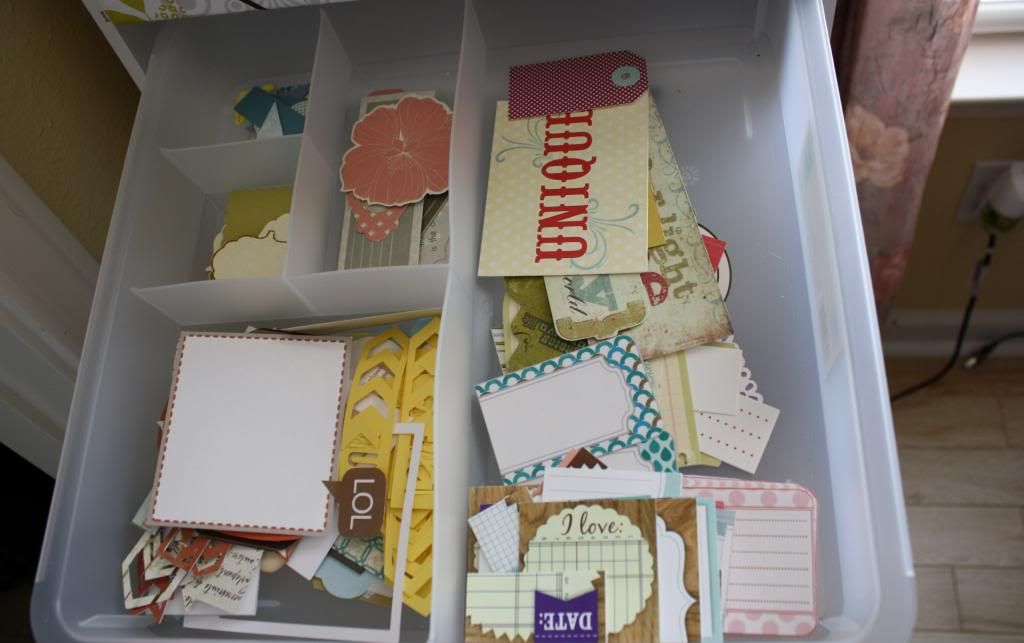 I bought this little divided drawer at target, it's originally supposed to fit in a canvas box, but it fit into the second slot on the top jetmax cube, so there it will remain. I have random stuff in it right now. Including leftover pieces from previous kits I put together and I don't really feel like resorting them. Plus lots of cut out pieces from either free journal spots or from my silhouette.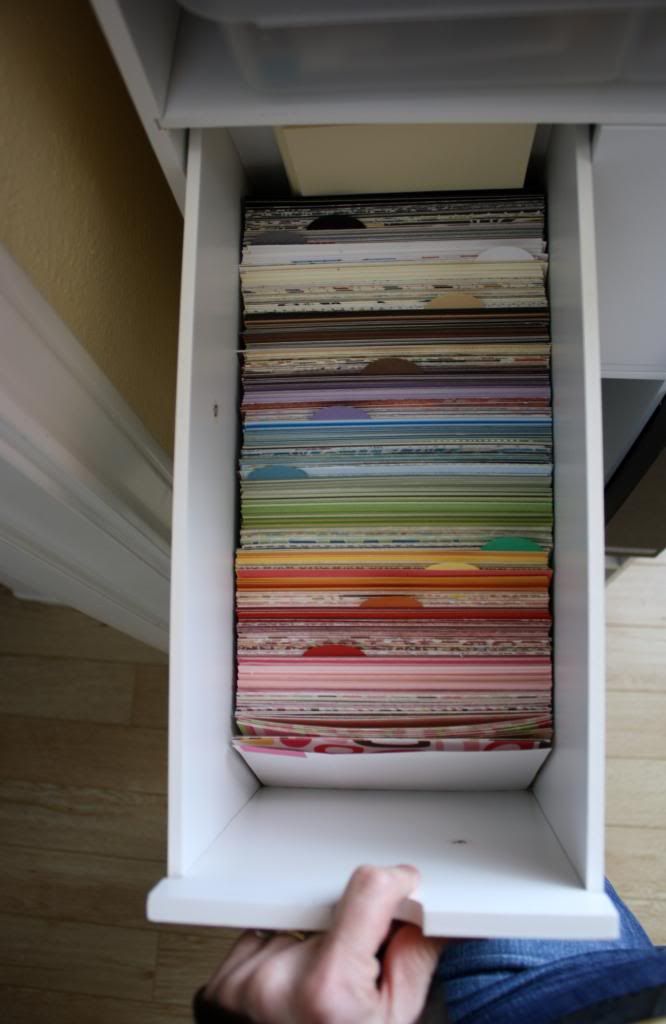 This drawer is where I moved all of my 4x6 paper scraps to, I previously had them divided into
2 separate areas
. I love that I can still pull this drawer out and move it to my table to dig through it. I have another cube like this one and I'm thinking of moving it over to keep my 6x6 paper pads in.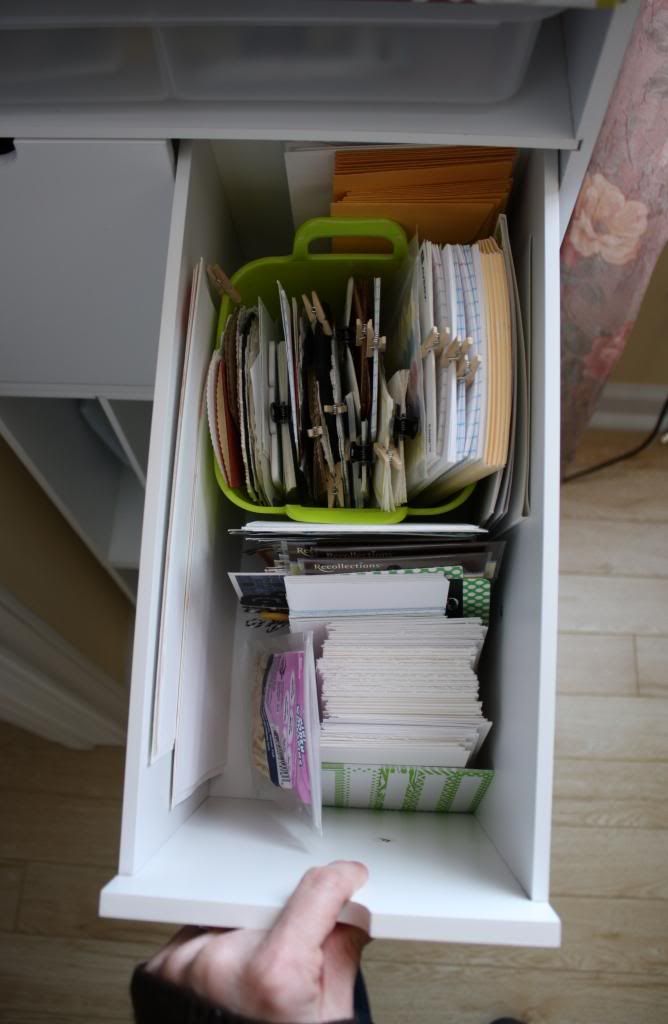 I bought a really
cute little box
to keep most of this stuff in on my desk, but my desk was being overwhelmed by SCHTUFF! So it all got moved into this drawer, I'm not sure it will stay like this though. I have another jetmax cube I am thinking of moving over and moving all of these supplies into it, but not anytime soon. I really need to get more of a feel for PL first, plus I also want to figure out my 6X6 paper pad storage too.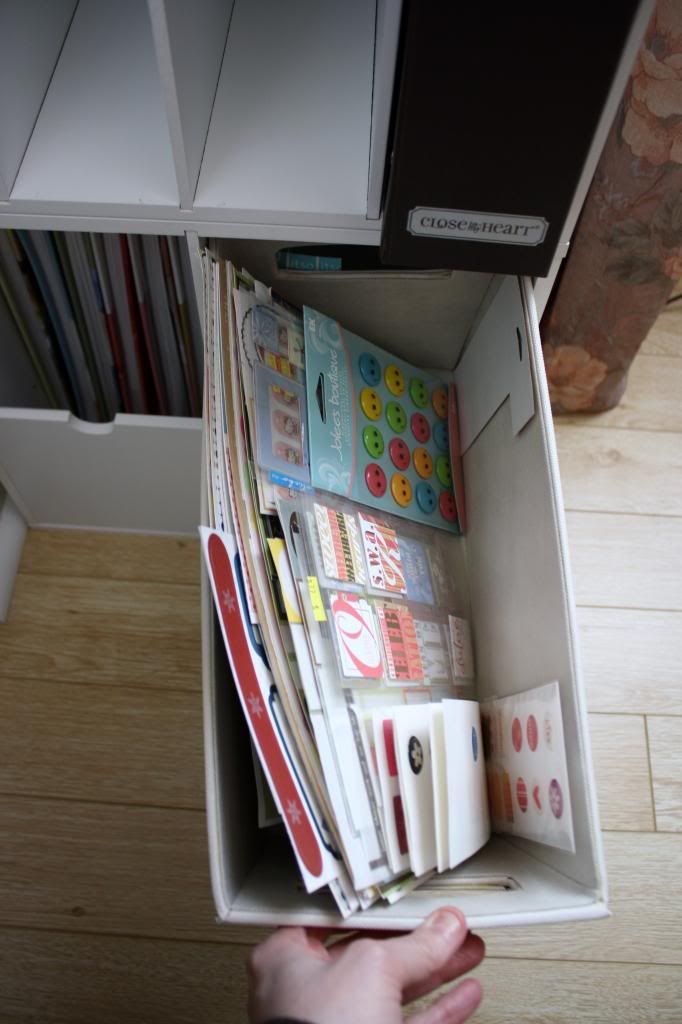 The first little basket holds random stuff, I went through several of my sticker files and pulled lots of random stuff that I thought I could use for project life and put into it, I plan to go through my color bins soon to pull out random stuff to put into the bottom basket, but that won't be anytime soon either.
Thanks for peeping into my scraproom with me, I love organizing ideas and looking at other peoples spaces, so I hope you enjoyed looking at mine.
Thanks for visiting my blog today!!!