I made this layout for the new
Scrap Your Story challenge blog, week 3
is sketch week. This is a new challenge blog and they offer a different challenge every week, if you haven't been there yet, hop over and check them out!
I used my beautiful
March Corner Stop & Shop CKC kit
. This photo is from 2011 and when I was flipping through photos and saw that darling blue top my sweet grand daughter Shani was wearing I knew that the photos would work perfectly with the colors in the kit.
This was our first time taking Shani to 6-flags and she was scared of nearly everything. I finally convinced her to get on the swings and at first she cried a little and after one time around I got that snarky little smile...I'm sure she was thinking I knew I was going to like this all the time!
Little cluster at the top.
I have had this chipboard alpha for years and years, I still have lots of letters in it and I certainly can't forget about the negative space left in the chipboard squares, I'm certainly going to have to find a use for those!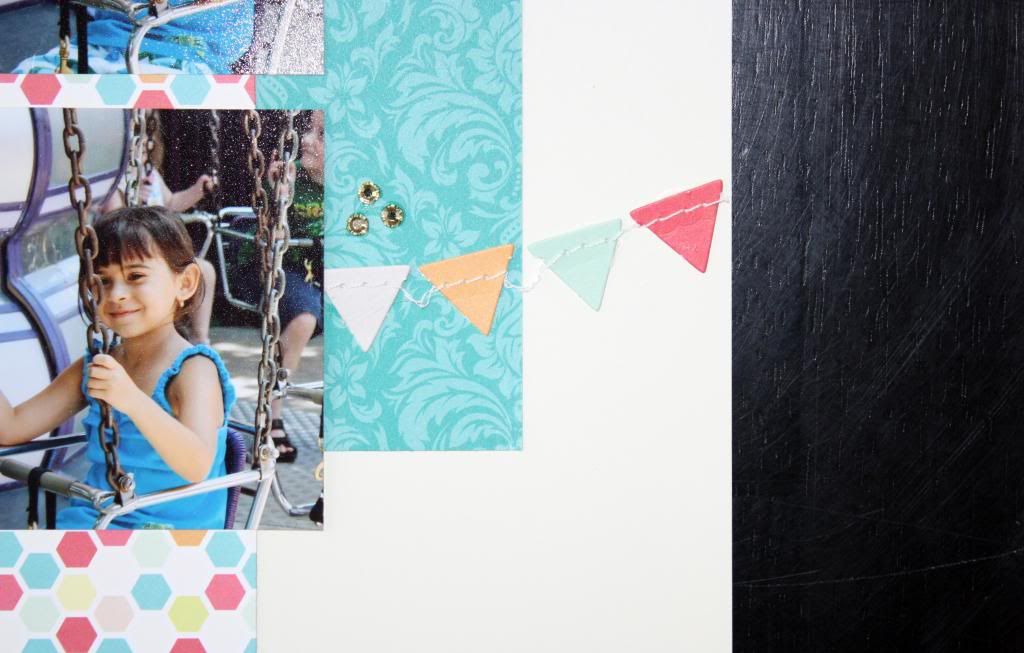 I cut a couple pieces of flutterbys for each side of the photo.
Love that journal pen color!
Supplies Used:
CTMH colonial white cardstock, Bazzill salmon cardstock, EP everyday eclectic hexagons & style essentials dk teal damask; L'il Davis Designs patterned chipboard alpha; AC flutterbys; Jolee's jewels; RUM star brad, details journal spot, circle journal spot & scrap die cut in lt salmon; sharpie pen