I was wanting to use up some of the scrap paper that I've been generating from my
Christmas Delight
Jan CKC kit, so I made these cute little gift tags to use next Christmas.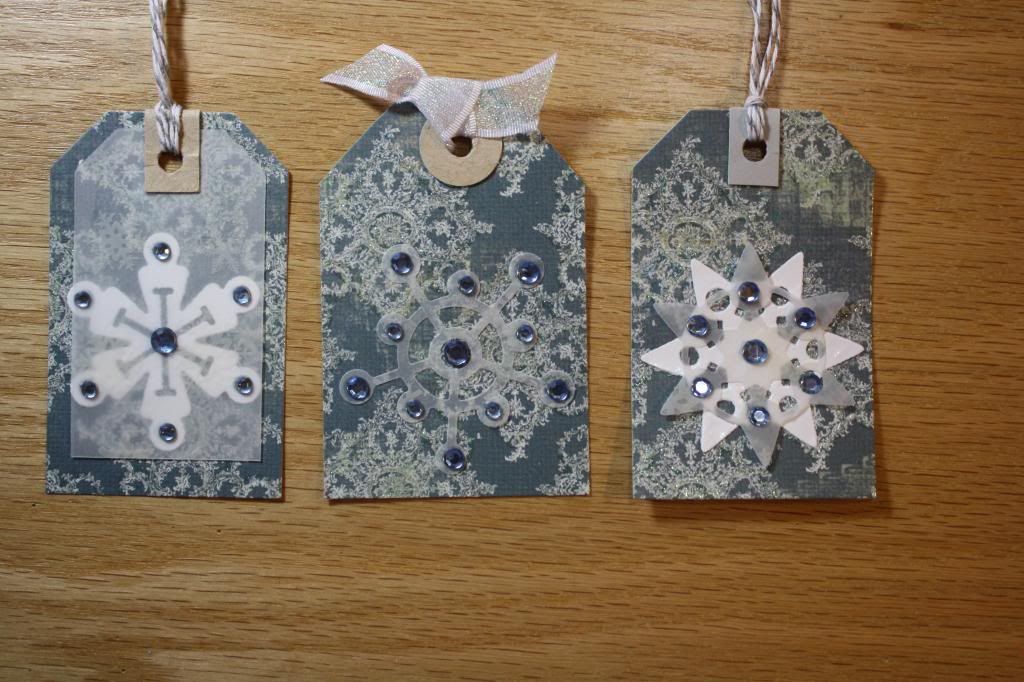 I pulled out a Quickutz/Lifestyle snowflake die and tried to cut vellum with it and was unsuccessful, so I added a shim to the back of the die and still no success. Finally I added a bit of scrap paper to the mix and I finally got a good cut on the vellum.
I used my new SU Christmas Tangibles to stamp the to/from on the back of the tags. I also punched out those little circles on the middle tag and used just a standard hole punch to punch the holes. Finally I added the last bit of white glitter ribbon to the tag in the middle and I added in some gray/white twine to my kit to finish these off.
I have a card of brads and some of them are just huge, like this brown one. So I used one here to fill the end of the tag and added the snowflake from my kit, I added in the bling for this tag.
Because this was a double sided paper I added a bit of leftover scrap paper and wrote the to/from onto it.
Thanks for visiting my blog today!!!